What is happening in Ukraine and why?
The news is pretty scary right now and we imagine the children in your life will have a lot of questions around the rapidly changing news coming out of Ukraine. If you are struggling to discuss the situation in Ukraine with your children First News is here to help navigate those difficult discussions with our free Ukraine Explainer.
First News has been helping parents explain the news to their children for 16 years. Our award-winning journalists are impartial, unbiased and will help you explain what is happening in an age-appropriate way.
Our team of journalists will be covering the very latest developments, so be sure to visit our website daily for up-to-date news, to share with your children, or school.
Download

This week's issue
for £1
Talking to children about the news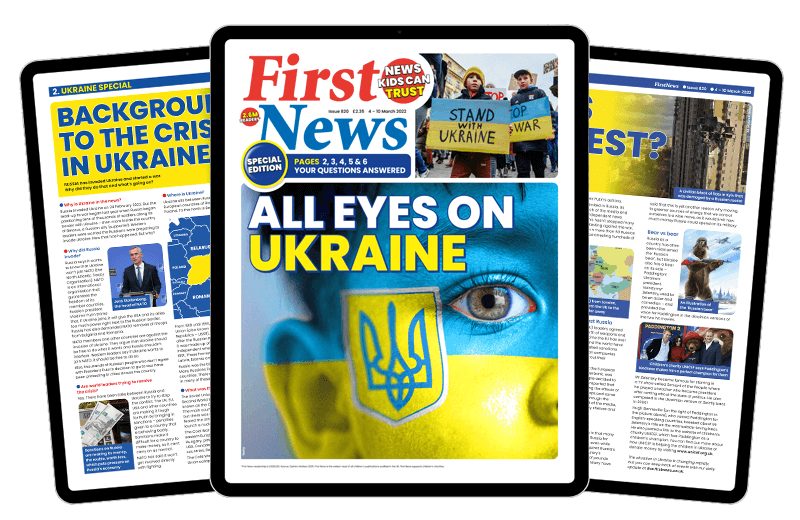 Ukraine update, Fri 4 March
As the war in Ukraine continues, nearly 1.2 million people have now fled Ukraine into neighbouring countries. More than half a million of those are in Poland. The United Nations (UN) estimates that four million people might leave Ukraine in the coming weeks.
One of the most heartwarming moments of this crisis came when trainloads of refugees ended up in Berlin, Germany. Hundreds of locals stood at the train station with signs saying that they would let refugees stay in their homes.
Although Ukraine isn't part of the European Union (EU), Ukrainian refugees have been given the right to live and work in the EU for the next three years. It's the first time the EU has ever used what's known as the Temporary Protection Directive, and it also gives refugees from Ukraine the right to get medical treatment. It's usually quite hard for refugees to live a normal life when they make their way to a new country, but this should make things much easier for them.
Kherson, in the south of Ukraine, has become the first city to fall under the control of the Russian army. It's a small but important port and is close to Crimea, the southern region of Ukraine that has been occupied by Russian forces since 2014. The mayor of Kherson said that Russian troops have put a curfew on the city, and people are terrified to leave their homes.
Although deliberately targeting civilians in a war is illegal under international law, hundreds of Ukrainian civilians have been killed in the last week. Schools, hospitals and buildings such as theatres and gyms have been badly damaged or destroyed, as well as a TV broadcasting tower. The International Criminal Court has already said that it has started an investigation into "war crimes and crimes against humanity" that have taken place as a result of President Vladimir Putin's decision to invade Ukraine.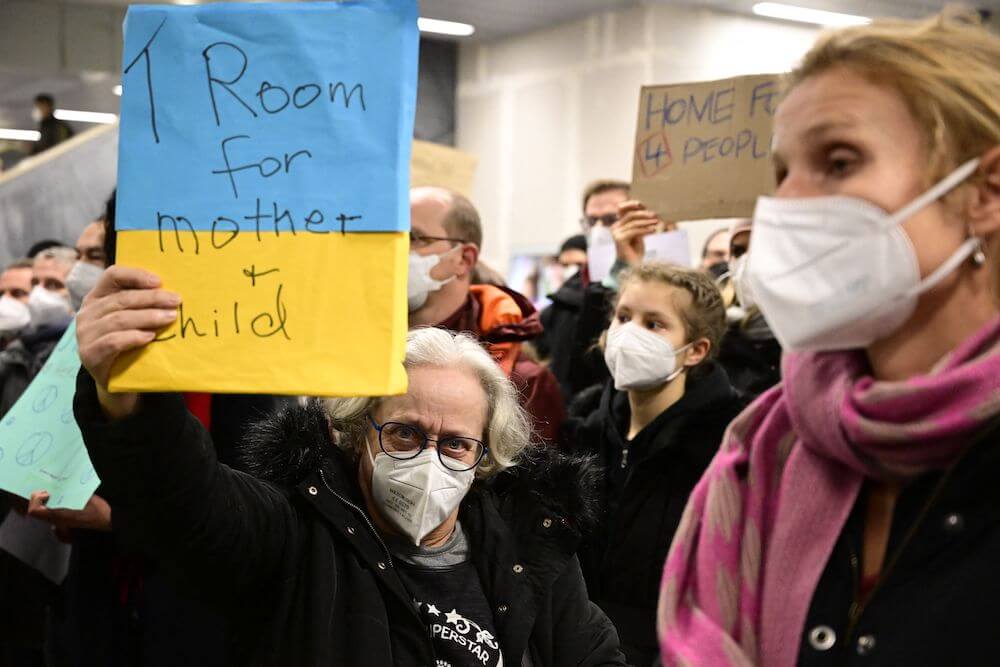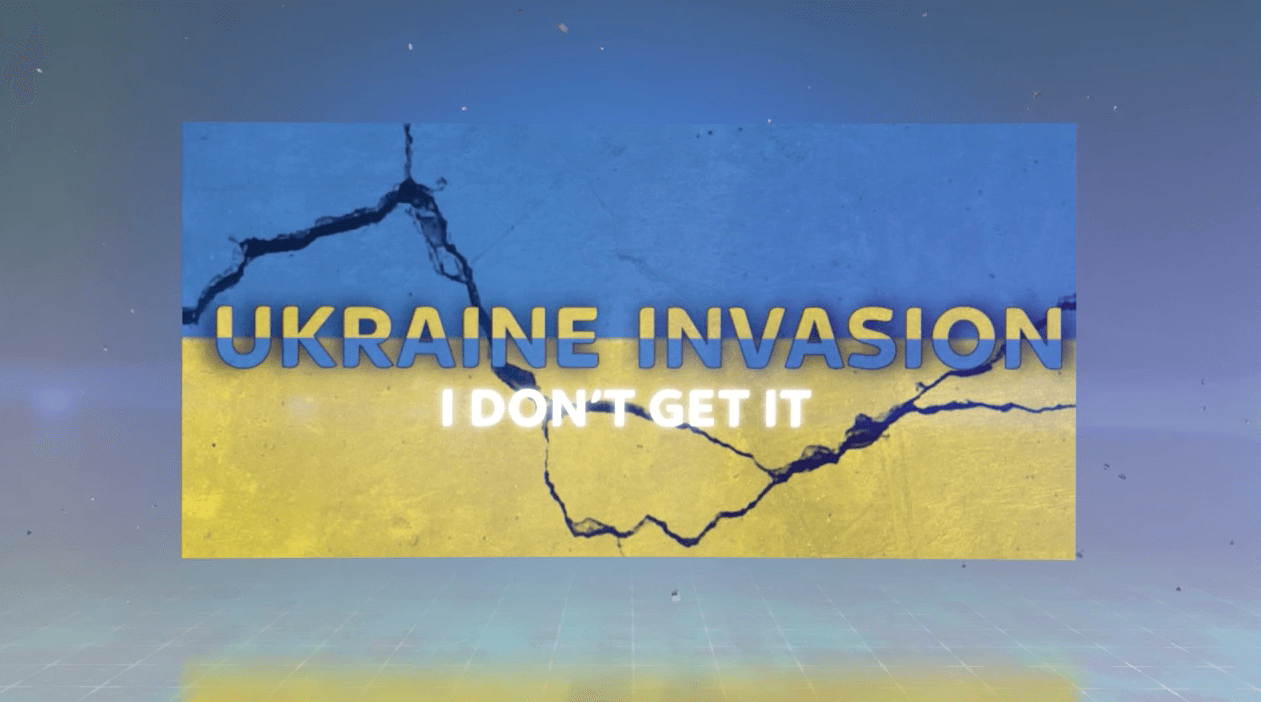 Sky Kids FYI presenter Braydon explains what is going on in Ukraine, explaining the background to the war and why it hasn't just come out of the blue, but has a long history.
Troops have attacked Ukraine from the north, east and south, including several attempts to enter Ukraine's capital, Kyiv. Russian forces control some sections inside Ukraine's borders, but Ukrainian troops have put up a tough fight and stopped Russia's first attempts to take over Kyiv. However, lines of Russian tanks several miles long have been seen headed towards Kyiv. Russian missiles have hit lots of civilian areas in Kyiv and other cities, including Kharkiv, the second-largest city.
Although Russia's military is much bigger and has better equipment, Ukrainian troops are fiercely defending their country. They are also being helped by many civilians who have bought weapons and taken shooting lessons in recent months. Some Ukrainian businesses have even stopped producing goods so that they can make weapons instead.
How to talk to children when the news is scary.
Don't try to turn off the news when there is bad news. Sadly, in the technological world in which we live, adults are no longer in control of how children access information. News comes at us 24 hours a day from dedicated news channels, radio, the internet, and newspaper headlines. Even if you manage to shield your children from all of that, things that happen in the news will be talked about in the school playground or lunch hall. Better that your child is armed with the real facts than hearing exaggerated, second or third-hand versions. Information is better than misinformation.
Even if your child doesn't mention bad news, don't assume they are not troubled by it. They may be worrying quietly inside. Explain simply what has happened, taking care not to use sensationalised words that tend to be used by the national press.
First News covers good and bad news in the paper and on our daily online news channel, First News Live! Use our content, made especially for children, as a platform to talk to children about the news. It is always created to explain what has happened but to offer reassurance, too.
Remind them that there is much more good news than bad news happening. And that there are many more good people than bad people.
Reassure them that they are safe here in the UK. And that there are lots of security and defence experts working hard to settle the issues in Ukraine. Tell them that this hasn't just happened out of nowhere and read our explainer with them. Knowledge is power.
Remind children that the best way to stay safe is to take care in their own daily lives. Children are more likely to have an accident in their own home than when they are out and about.
Hold them a little bit closer and for a little bit longer
Try your first 6 weeks for £1, PLUS a free Making Sense of the News e-guide. See the world open up to your child!
By subscribing to First News you will give your child the knowledge to help them learn, debate and think critically about the world around them, and their place within it.
HEAR FROM SOME OF OUR SUBSCRIBERS
My children love First News
Zak generally disappears for an hour or so on a Friday after school to read it and I'm ashamed to admit that he generally knows more about current affairs than me thanks to his weekly newspaper reading. I love that First News is teaching him about what happens in the world in a sensitive but informative and factual manner. Our First News subscription is honestly worth every single penny.
John, Dad
I love First News
There's so much to read and there are so many cool facts. I race my brother at the puzzles every week but my favorite section is 'Crazy But True' – I always have something weird to tell my friends about!
Josh, aged 11
FANTASTIC!
Since subscribing to First News my daughter joins in with Sunday morning paper reading and is able to participate in the many conversations... we often read it together which is fun.
Priya, Mum
START YOUR 6 WEEKS FOR £1 TO THE FIRST NEWS DIGITAL EDITION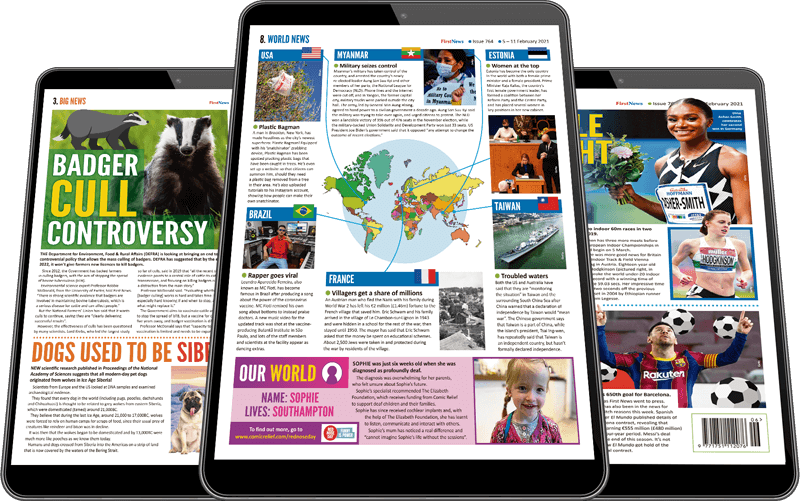 SIGN UP FOR 6 WEEKS FOR £1
OF THE PRINT & DIGITAL EDITION
The first 6 weeks are for £1, after this will step up to a paid subscription and you will be charged £33.99 every 3 months (13 issues). There is no obligation to continue and you can cancel at any time. You'll also receive our free e-guide: Making Sense of the News.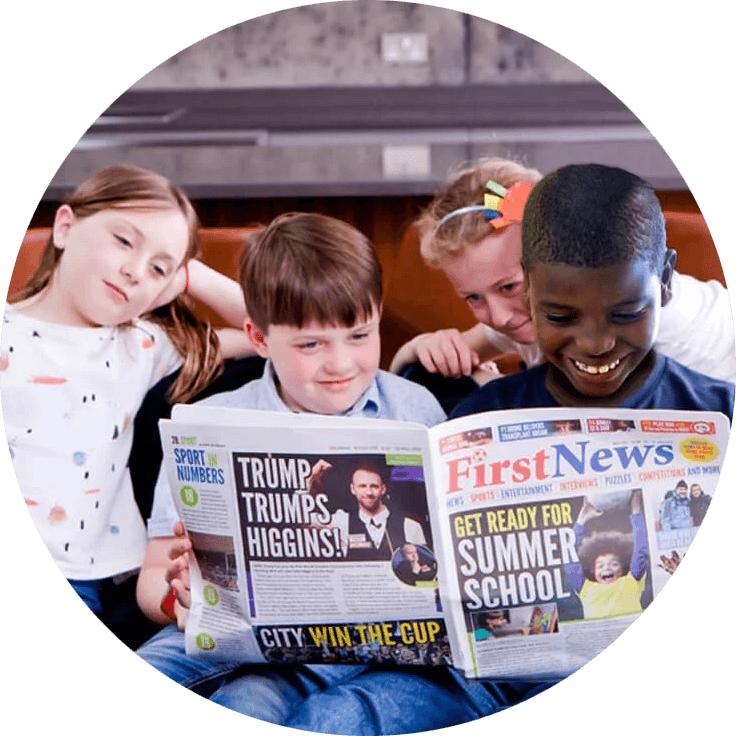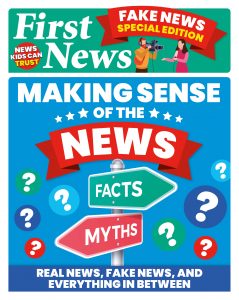 Making Sense of the News
Fake News is inescapable in today's society, so it is more important than ever to cultivate an understanding of this phenomenon.
Making Sense of the News supports the teaching of critical literacy and explaining how to fact check articles, while offering an exploration of the history of news reporting.
TAKE A LOOK AT SOME OF THE QUESTIONS
PEOPLE ASK US MOST OFTEN ABOUT FIRST NEWS
How many pages are in First News newspaper?
There are 28 pages in First News covering UK and world news, science news, animal news, special report, big interview, entertainment news, game zone, crazy but true, your news, books, puzzles, family fun and sport! You can be sure whatever your child is into they will find something to love in First News.
How often does First News come out?
First News is a weekly publication delivered every Friday in print, or across all digital devices.
What's in First News?
First News cover issues and stories which are relevant to children and which specifically affect them. Articles are written in an age-appropriate way, and since we are fully independent there is no political bias.
What age is First News aimed at?
First News is designed for children aged 7 to 14 years old.
Is First News run by kids?
First News is run by a team of experienced, award-winning, adult journalists, but we do talk to kids all the time to ask how they feel about certain issues. For instance, we have regular polls on the website that help us to understand what our readers are thinking and they sometimes come to us with ideas for stories.
You can also email us at [email protected]