Give your child access to trusted news and inspire them to change the world!
Plus get our FREE e-guide
"Making Sense of the News"

, helping children understand what Fake News is and providing a vital understanding of this inescapable phenomenon. This 27-page e-guide explains how to spot fake news, how to fact-check articles as well as offering an exploration of the history of news reporting.
We passionately believe that whilst children may only be 27% of the world's population, they are 100% of the future – and to be able to make the difference they want to see in the world they just need to make sense of it first.
First News

Print
subscription
First News

Digital
subscription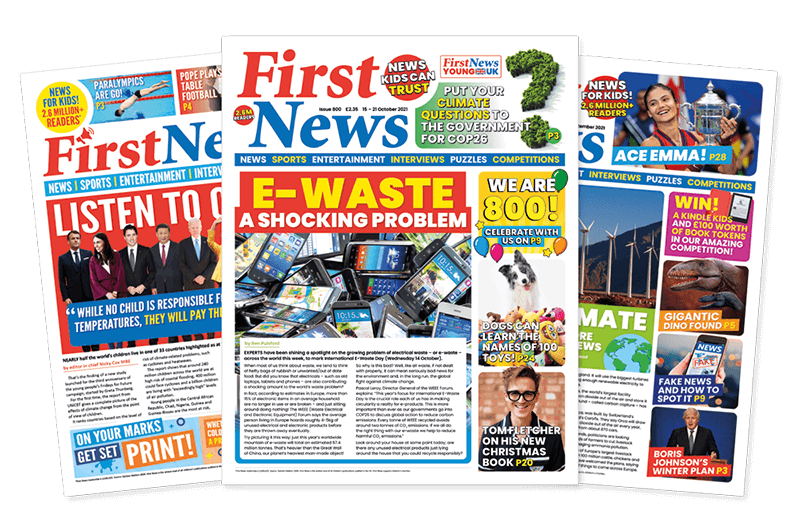 First News provides your child with a window on our wonderful world.
First News is the multi award-winning newspaper which children love to read, delivered to your door and digitally across all devices every week.
First News gives your child access to factual, impartial news and entertainment from the UK and around the world expertly written by award-winning journalists!
We promise to educate and entertain your child with every read!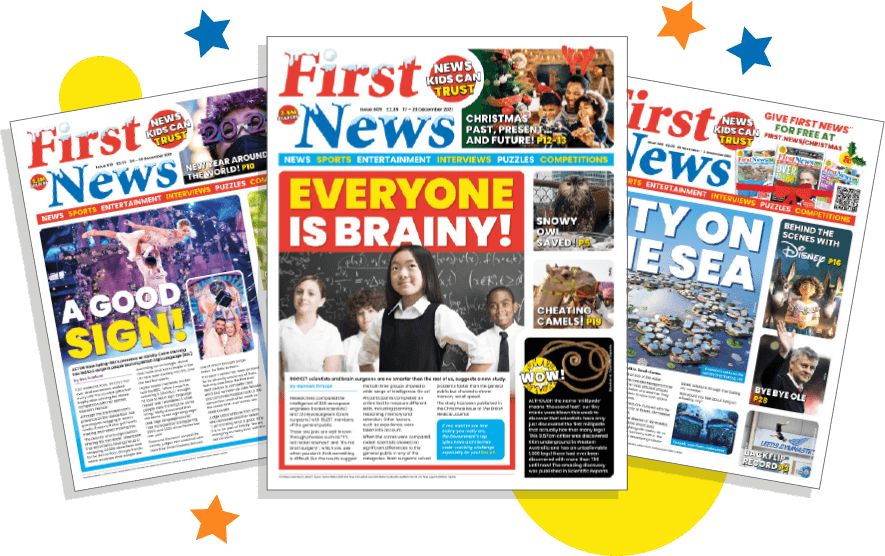 First News is jam-packed with age-appropriate articles, eye-catching photos and bursting with interviews, boredom-busting puzzles, games and competitions. It shapes future global citizens who grow up knowing they can make a positive contribution to the world.
Trust First News to report the facts, inspire conversation, fuel curiosity and spark debate.
Plus we give parents a platform to talk to their children about what is happening in the world, opening up some fascinating dinner table conversations. Just don't be surprised if your kids end up knowing more about what's going on in the world than you do!
Try First News today and get your first 6 issues absolutely free!
What to expect if you take out a First News subscription for your child?
First News takes the fear out of sensationalised world events that children hear, giving them a balanced and truthful view of the world.
First News carefully, and sensitively, explains the background to stories in the news.
In our news coverage, First News counters over-reported negative news in other areas of the media by showing that there is much more good news in the world, than bad – and many more good people, than bad.
First News gives children a voice about the issues they care about.
First News shows young people in a positive light, bringing attention to the good things that young people do.
We take care to show people who might be marginalised in a way that is not degrading.
Try your first 6 issues absolutely free (RRP £14.10), PLUS free Making Sense of the News e-guide. See the world open up to your child!
By subscribing to First News you will give your child the knowledge to help them learn, debate and think critically about the world around them, and their place within it.
HEAR FROM SOME OF OUR SUBSCRIBERS
My children love First News
Zak generally disappears for an hour or so on a Friday after school to read it and I'm ashamed to admit that he generally knows more about current affairs than me thanks to his weekly newspaper reading. I love that First News is teaching him about what happens in the world in a sensitive but informative and factual manner. Our First News subscription is honestly worth every single penny.
John, Dad
I love First News
There's so much to read and there are so many cool facts. I race my brother at the puzzles every week but my favorite section is 'Crazy But True' – I always have something weird to tell my friends about!
Josh, aged 11
FANTASTIC!
Since subscribing to First News my daughter joins in with Sunday morning paper reading and is able to participate in the many conversations... we often read it together which is fun.
Priya, Mum
START YOUR 6 ISSUE FREE TRIAL TO THE FIRST NEWS DIGITAL EDITION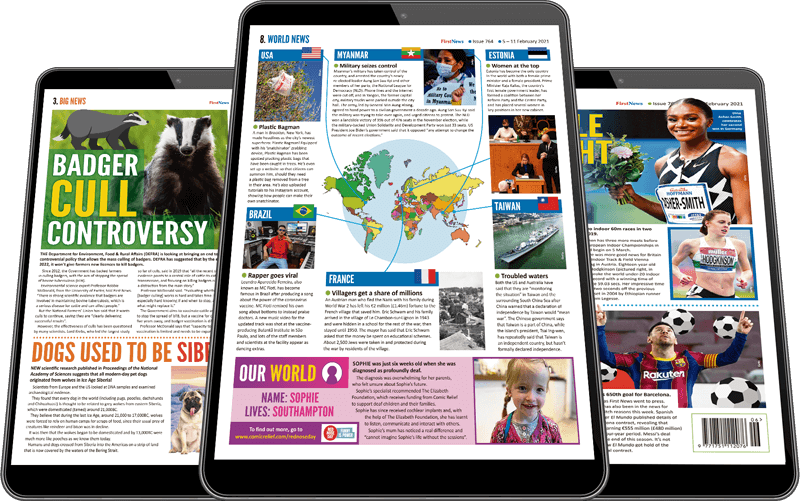 SIGN UP FOR 6 FREE ISSUES
OF THE PRINT EDITION
The first 6 issues are free, after this will step up to a paid subscription and you will be charged £25.99 every 3 months (13 issues). There is no obligation to continue and you can cancel at any time. You'll also receive our free e-guide: Making Sense of the News.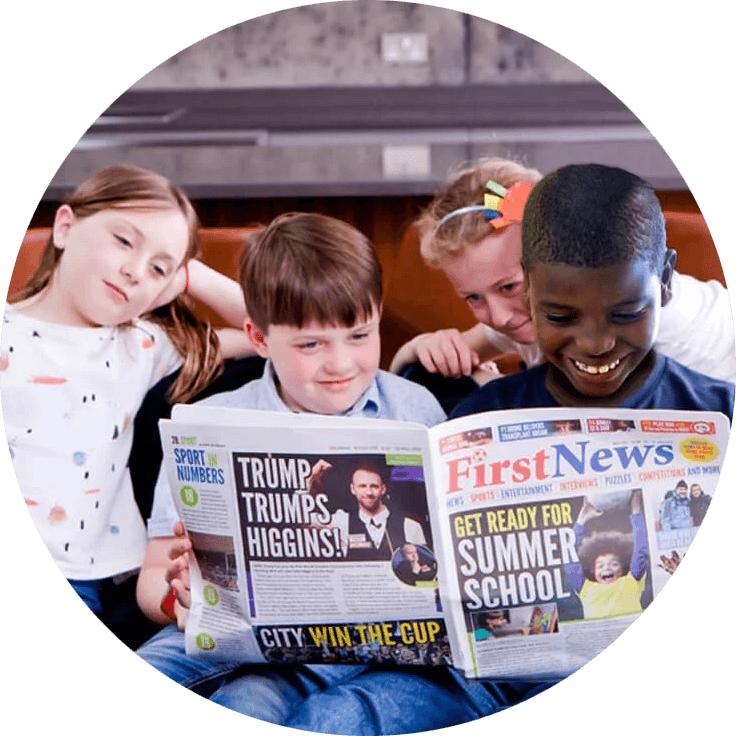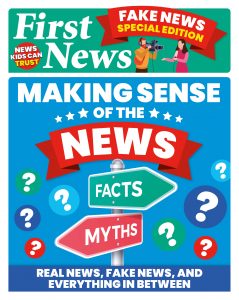 Making Sense of the News
Fake News is inescapable in today's society, so it is more important than ever to cultivate an understanding of this phenomenon.
Making Sense of the News supports the teaching of critical literacy and explaining how to fact check articles, while offering an exploration of the history of news reporting.
TAKE A LOOK AT SOME OF THE QUESTIONS
PEOPLE ASK US MOST OFTEN ABOUT FIRST NEWS
How many pages are in First News newspaper?
There are 28 pages in First News covering UK and world news, science news, animal news, special report, big interview, entertainment news, game zone, crazy but true, your news, books, puzzles, family fun and sport! You can be sure whatever your child is into they will find something to love in First News.
How often does First News come out?
First News is a weekly publication delivered every Friday in print, or across all digital devices.
What's in First News?
First News cover issues and stories which are relevant to children and which specifically affect them. Articles are written in an age-appropriate way, and since we are fully independent there is no political bias.
What age is First News aimed at?
First News is designed for children aged 7 to 14 years old.
Is First News run by kids?
First News is run by a team of experienced, award-winning, adult journalists, but we do talk to kids all the time to ask how they feel about certain issues. For instance, we have regular polls on the website that help us to understand what our readers are thinking and they sometimes come to us with ideas for stories.
You can also email us at [email protected]