Welcome to First News – a kids' newspaper read weekly by more than 2 million children!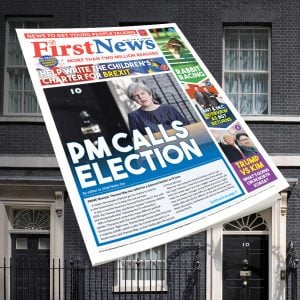 So, why does First News have such a large, engaged readership? Well, we believe that kids should have their own reliable news source to engage, entertain and educate them about what's happening in the world.
We may be a kids' newspaper, but we still cover all the main news stories, not shying away from bad news when it happens but always writing in language that kids can understand. We also write about how adults can talk to children when something truly terrible happens in the news.
Each week our readers get UK and international news, animal news, science, entertainment, interviews, games, puzzles, competitions and sports news.
Responsibly reported kids news
First News is a family-owned company with no political affiliations.
With a readership of over 2.2 million weekly readers and over 10 years reporting for children, First News is helping to engage and inform the next generation.
First News is an independent kids newspaper, aimed at 7 to 14-year-olds.
Trusted by parents, loved by children and encouraged by teachers.
Don't forget to join us on Facebook for more kids news, how-to videos and competitions.