UK Subscriptions
Subscription
Payment
10 Copies for £10.00*
Direct Debit
Try

10

issues for

£10.00

🎁 Optional gift
3 Months for £20.69
Credit / Debit Card
Buy Now🎁 Optional gift
6 Months for £41.39
Credit / Debit Card
Buy Now🎁 Optional gift
12 Months for £71.99
Credit / Debit Card
Buy Now🎁 Optional gift
10 Copies for £10.00*
Direct Debit
Try

10

issues for

£10.00

🎁 Optional gift
3 Months for £25.19
Credit / Debit Card
Buy Now🎁 Optional gift
6 Months for £46.79
Credit / Debit Card
Buy Now🎁 Optional gift
12 Months for £82.79
Credit / Debit Card
Buy Now🎁 Optional gift
UK Subscriptions
Subscription
RRP
Saving
Payment
10 Copies for £10.00*
£22.50
Save 56%
Direct Debit
Try

10

issues for

£ 10.00

🎁 Optional gift
3 Months for £20.69
£29.25
Save 29%
Credit / Debit Card
Buy Now🎁 Optional gift
6 Months for £41.39
£58.50
Save 29%
Credit / Debit Card
Buy Now🎁 Optional gift
12 Months for £71.99
£117.00
Save 38%
Credit / Debit Card
Buy Now🎁 Optional gift
10 Copies for £10.00*
£37.40
Save 73%
Direct Debit
Try

10

issues for

£ 10.00

🎁 Optional gift
3 Months for £25.19
£48.62
Save 48%
Credit / Debit Card
Buy Now🎁 Optional gift
6 Months for £46.79
£110.24
Save 58%
Credit / Debit Card
Buy Now🎁 Optional gift
12 Months for £82.79
£220.48
Save 62%
Credit / Debit Card
Buy Now🎁 Optional gift
* Then £22.99 every 3 months
* Then £25.99 every 3 months
With our Christmas Gift Subscriptions, you can add our fantastic First News Top Trumps to your order and we will deliver it to the specified shipping address before Christmas.
Newspapers will be delivered to the recipients weekly from Friday 1st January 2021.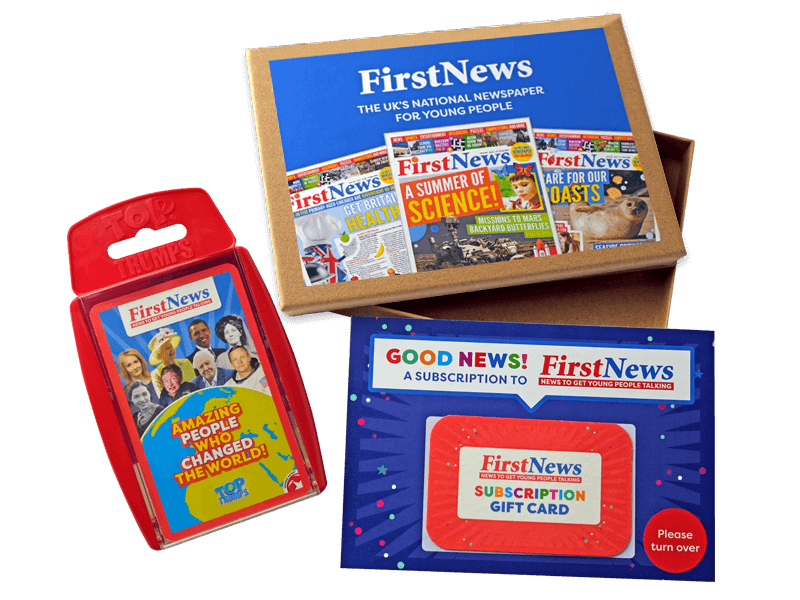 With our Christmas Gift Subscriptions you will receive a printable gift certificate with your order. Why not add a lovely gift box presentation pack or Top Trumps to wrap up for Christmas day? Simply add the box or Top Trumps at checkout.*
Engaging children in news responsibly
Parents and teachers recognise that First News is a wonderful way of engaging children in a safe and trusted environment offline, and the children themselves enjoy having a newspaper which delivers world news in a concise and informative way, without shying away from important stories. With a readership of over 2.2 million weekly readers and over 10 years reporting for children, First News is helping to engage and inform the next generation.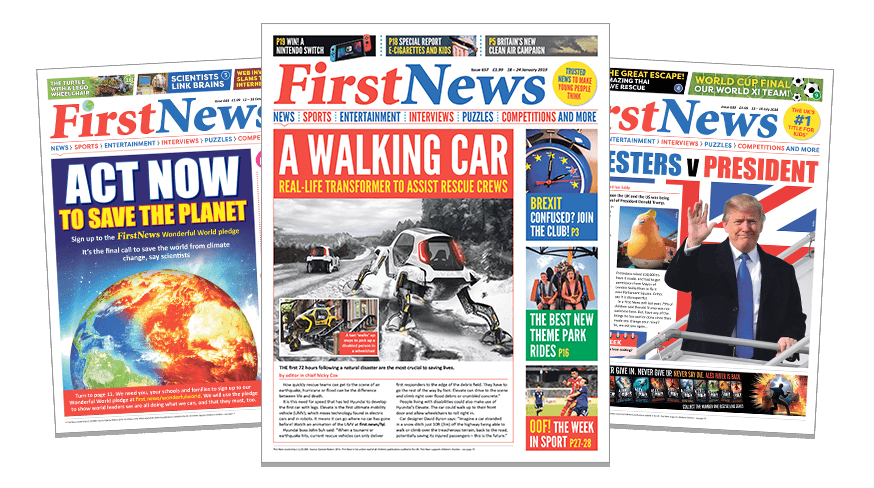 *Gift Box Presentation Pack available for 6 or 12 month gift subscriptions only.