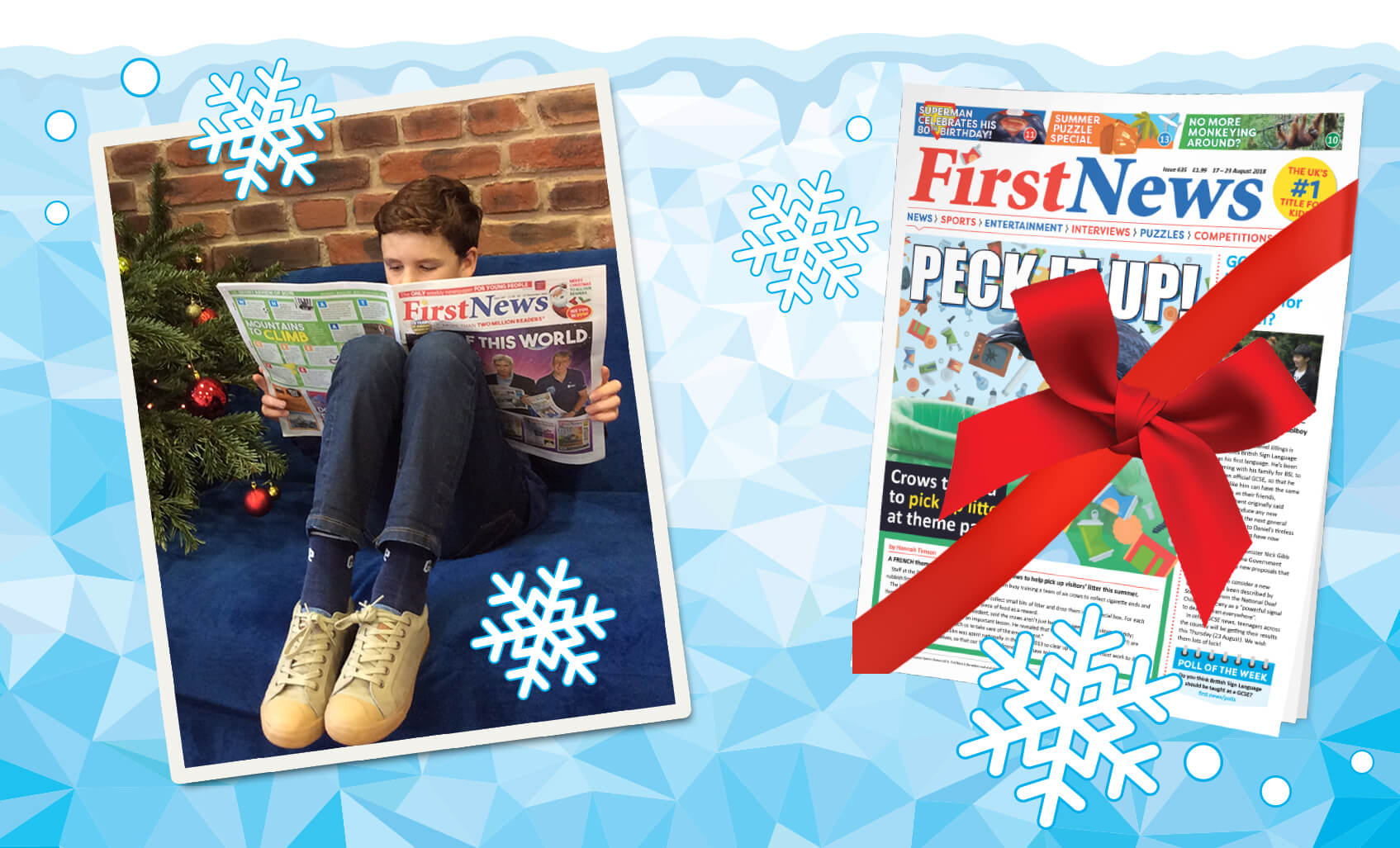 Worried you've left it too late?
There's still a few days left to order your First News gift subscription before Christmas!
PlUS: Order today and we'll email you a gift certificate plus a special digital edition of the paper to read on Christmas day.
Subscription gifts from £10
The UK's biggest selling children's title
Delivered into homes every Friday
Over 2 million readers each week
28 pages of news, entertainment, science and sport
Over 12 years of award-winning news for children
The perfect Christmas present for engaged, curious 7-14 year olds.
Add our exclusive First News Top Trumps!
Our exclusive First News Top Trumps are all about amazing people who changed the world.
From Bill Gates to William Shakespeare and Malala to Beyoncé see who will come out on top.
Plus there's a very special category – the First News rating – which ranks how influential each person is on the world today, as voted for by our very own First News readers.
Already a First News subscriber? You can still buy our Top Trumps here.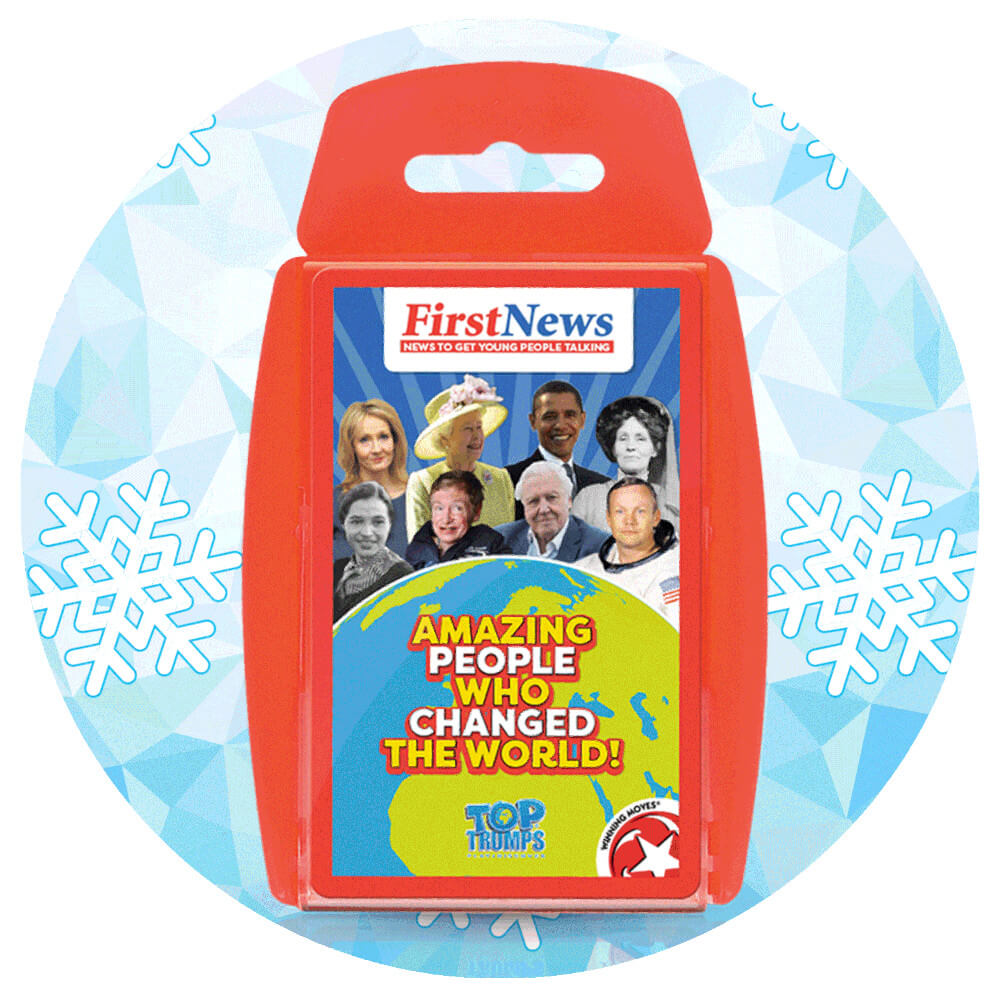 Price
RRP
Saving
Duration
Payment
£10.00*
£19.90
Save 50%
Ongoing
Direct Debit
Try 10 issues for

£ 10.00

🎁 Optional gift
£29.99
£39.80
Save 25%
20 weeks
Credit / Debit Card
Buy Now🎁 Optional gift
£32.99
£51.74
Save 36%
26 weeks
Direct Debit
Buy Now🎁 Optional gift
£34.99
£51.74
Save 32%
26 weeks
Credit / Debit Card
Buy Now🎁 Optional gift
£61.99
£103.48
Save 40%
52 weeks
Credit / Debit Card
Buy Now🎁 Optional gift
£10.00*
£34.80
Save 71%
Ongoing
Direct Debit
Try 10 issues for

£ 10.00

🎁 Optional gift
£36.99
£69.60
Save 47%
20 weeks
Credit / Debit Card
Buy Now🎁 Optional gift
£39.99
£90.48
Save 56%
26 weeks
Direct Debit
Buy Now🎁 Optional gift
£41.99
£90.48
Save 54%
26 weeks
Credit / Debit Card
Buy Now🎁 Optional gift
£75.99
£180.96
Save 58%
52 weeks
Credit / Debit Card
Buy Now🎁 Optional gift
£10.00*
£14.90
Save 33%
Ongoing
Direct Debit
Try 10 issues for

£ 10.00

🎁 Optional gift
£22.99
£29.80
Save 23%
20 weeks
Credit / Debit Card
Buy Now🎁 Optional gift
£25.99
£38.74
Save 33%
26 weeks
Direct Debit
Buy Now🎁 Optional gift
£27.99
£38.74
Save 28%
26 weeks
Credit / Debit Card
Buy Now🎁 Optional gift
£47.99
£77.48
Save 38%
52 weeks
Credit / Debit Card
Buy Now🎁 Optional gift
* Then £19.99 every 3 months
* Then £19.99 every 3 months
* Then £12.99 every 3 months
First News Top Trumps: we can no longer guarantee that these will be delivered before Christmas.  They will be sent directly to the purchaser
Newspapers will be delivered to the recipient weekly from Friday 4th January
"FABTASTIC! I'm going to read it myself when I go to bed. My 9 year old loves it!"
Lucy, Mum
"My children very much look forward to the sound of First News dropping through our letterbox each week. Zak generally disappears for an hour or so on a Friday after school to read it and I'm ashamed to admit that he generally knows more about current affairs than me thanks to his weekly newspaper reading. I love that First News is teaching him about what happens in the world in a sensitive but informative and factual manner. Our First News subscription is honestly worth every single penny."
Emma Vantsone, Blogger
"My grandchildren love it! When asked how they know about certain matters they say, 'First News of course.'"
Catherine, Grandmother
"I read First News, it is great! I keep randomly telling my family and friends facts and they're like: "where did you learn that?" and I say 'First News'."
Popjam user